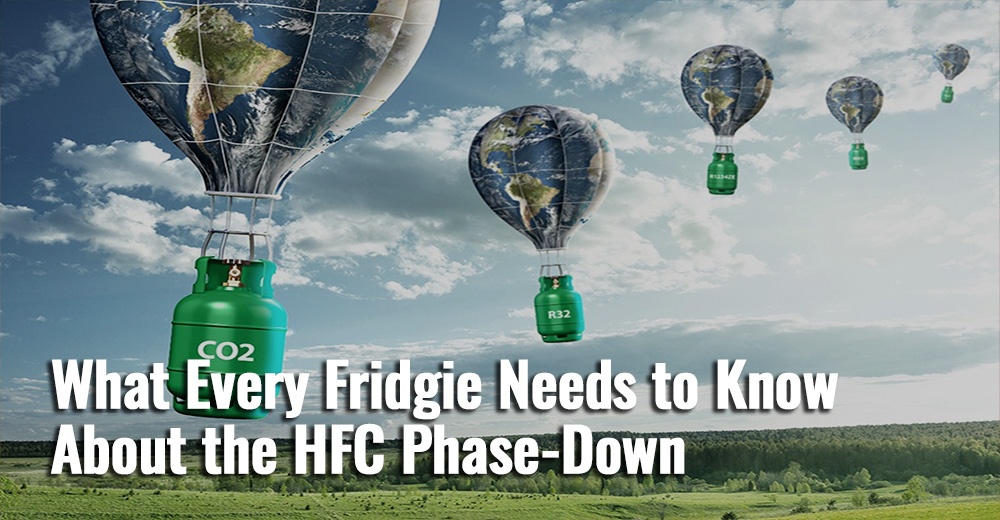 The HFC phase-down has begun, but for many fridgies there's still a bit of mystery surrounding how it will impact the industry in both the short and longer-term.
While the changes are gradual and may not have affected how you operate too much just yet, it's important to stay informed and up to date about the bigger picture.
So, to help you get your head around what the HFC phase-down means for fridgies like you, we've put together a short overview of the key facts here.
Why the HFC Phase-Down is Happening
The international phase-down of hydrofluorocarbons (HFCs) was agreed upon under the Montreal Protocol in 2016. As of 1 January 2018, Australia commenced a gradual phase-down of HFC production and imports, which will equate to an 85% reduction by 2036. The aim is to encourage the refrigeration industry to switch to alternative technologies with low or zero global warming potential (GWP) gases.
How HFCs Contribute to Global Warming
HFCs are synthetic greenhouse gases that are mostly used in air conditioning and refrigeration equipment. While they don't directly deplete the ozone layer, HFCs have a high GWP. This means they have a greater ability to trap heat in the atmosphere compared to other greenhouse gases. To put this in perspective, carbon dioxide (CO₂) has a GWP of 1, as it is the baseline unit to which other greenhouse gases are compared, while HFC-134a has a GWP of 1430 – so the release of one tonne of HFC-134a is equivalent to releasing 1430 tonnes of CO₂ into the atmosphere!
What is Included in the HFC Phase-Down
All the commonly used HFCs with high GWP are included in the phase-down, including those that are sold alone, or blended with other chemicals. The phase-down covers HFCs imported as bulk products (such as cylinders) only. It does not apply to any gas imported in pre-charged equipment as these are accounted for in the quota of the country of manufacture.
How Is the Phase-Down Affecting the Industry?
Importers of bulk gas containing HFCs are immediately affected. However, over the next few years, the changes will become more wide-spread as the industry adapts. Currently, as a fridgie, you can continue to purchase the HFCs you need to maintain existing equipment. Retailers and importers can purchase pre-charged equipment containing HFCS quota-free, and consumers are not required to replace the HFC in their existing equipment.
Which Gases Will Replace HFCs Moving Forward?
There are several possible alternatives to HFCs including both natural refrigerants (ammonia, hydrocarbons, CO₂, air, and water) and synthetic refrigerants (hydrofluoroolefins). These alternative gases are not regulated under the Ozone Protection and Synthetic Greenhouse Gas Management legislation (unless they are in a blend containing HFCs) so an ARC licence is not required to handle them. However, as new HVAC-R equipment is developed and the use of HFC alternatives becomes more common, as a fridgie, you need to make sure you are fully trained in their safe use.
Prepare Yourself for Future Change
While it may feel like business as usual at the moment, the HFC phase-down is big news for the HVAC-R industry and it will cause major changes over the coming years. To stay at the top of your game, it's important to keep up with the latest developments and be ready to adapt to the changes as they occur.
For now, the best thing you can do is to improve your understanding of the low-GWP refrigerant alternatives and make sure you are fully trained in their safe use and handling. Think about the refrigerants you are using now, and what they may potentially be replaced with, and keep up to date with the new technologies that are under development. That way, you'll be ahead of the game when the phase-down really kicks off.
Over to You
Do you have a question about the phase-down? Or anything else fridgie-related? We'd love to hear from you! Post a comment below or drop us a line!